Harold's Tribute to Mother and Dad

The Bible played a large role in our family growing up. My father would read it just about every day in our living room in his favorite chair. Often I would hear him reading aloud into a microphone that was recording onto a cassette tape recorder in his office at the church. Then he would take the cassettes with him in the car so he could listen while he was traveling to appointments.
Being a minister, it wasn't like we weren't preached at by my father, but he lead all of us by his actions. Growing up with my parents, I always felt safe and secure. One of the reasons we felt a sense of security was how Dad visually and verbally showed my sister and my brothers that he loved our Mother. He openly hugged her and kissed her and told her that he loved her!
In my early years I had some challenges in school, and we didn't know why. I was dyslexic but they didn't understand that back in the 1960s. So school was hard for me early on. I had trouble learning to read, so Mother read the Bible to me and taught me about how the words would fit together in sentences. Other subjects like math were hard as well. I was intimidated and had trouble with some of my teachers, who didn't understand that I didn't learn with their method of teaching. I'll never forget how I was being verbally abused by a teacher, I was different and she thought if she shouted at me I would learn.

One day I remember coming home from school at lunch. I told my dad, "My teacher wants to talk with you." Dad was the pastor of the Pittsburgh Church of the Brethren. I don't recall exactly what was said in the conversation but I knew he wasn't sure he could make it to school that afternoon. Dad was my hero. He came about an hour later. I don't know what he said to my teacher but the rest of my day was better.
As I grew older my father wrote a book, It Can Happen to Anybody! As people began to read his book he began to get invitations to speak at churches around the US and then a few places in Europe. I remember traveling with him during the summers. I really enjoyed traveling. Along the way he would make time to go to take us to scenic places like the Grand Canyon, Yosemite, and Yellowstone. I can remember at school talking about where we went over the summer and a friend said, "We drove for a long time, until they got to Breezewood." That town was only few hours east of home, off the PA Turnpike, not really far away at all. Then I would say, "oh, well we went to California and saw Disneyland…" along with lots of other fascinating places.

Throughout life growing up I developed a love for the Bible. Dad helped organize a ministerial group of Pastors in the Pittsburgh area to meet monthly and encourage each other. All of us boys had to put labels on the envelopes and fold letters, and stuffed them each month. The Greater Pittsburgh Charismatic Conference was established later out of the ministers group. Dad would give each of us little jobs like welcoming speakers to the conference as they parked [if they drove there}, or keeping soft drinks filled in a refrigerator for the speakers. That gave me an opportunity to meet many famous Christian speakers informally, and learn things about the Bible. Dad was a good example of what it meant to be a father and a husband! In my life today I try my best to be as good a father and husband as my dad.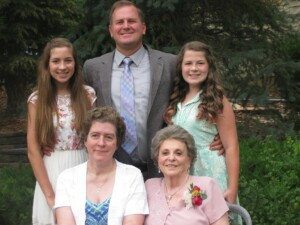 Growing up with Mother, I have many good memories. She would take us on the bus to downtown Pittsburgh to go clothes shopping. Sometimes after shopping a few hours we would eat lunch in a restaurant. Mother always taught us table manners. She would say, "You know someday you might eat at The White House!" Mother did eventually get to The White House and met President Reagan with a large group of Christian women!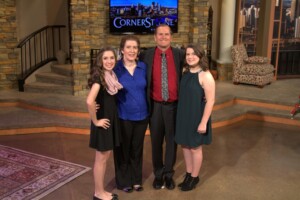 One thing I look back and appreciate is how Mother always cooked us breakfast before school. She prayed for us more than I will ever know! When I was bad, she disciplined me. As I grew older I helped mother with her flowers, and helped grow a vegetable garden with my brothers. I learned not to say I was bored, because eventually she would give you a short household job. Because of Mother's influence, I love to read, cook and garden to this day.